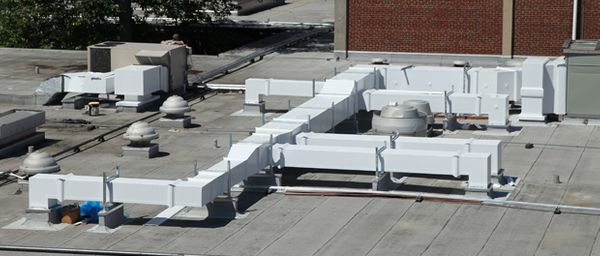 Exterior Ductwork Applications
Outdoor ductwork experiences much more than it would in an indoor environment. Rain, wind, hail and snow can all negatively effect on the duct's structural integrity, but also its thermal performance and air leakage rate. To keep the loss of conditioned air and intrusion of water, Airflow Distribution Company recommends Thermaduct for outdoor applications.
Thermaduct is Kingspan KoolDuct fortified with a 1000 Micron titanium infused vinyl cladding. It is available in some of the highest insulated values in the industry, ranging from R-8.1 all the way up to R-24. Duct sections are water and air tight, using no tapes or adhesives. All seams are thermally or chemically welded, and jointed together with Thermaduct's gasketed 4 bolt connection system and water covering system. Included with a 10 year warranty, Thermaduct is a premium product with the strength and durability to withstand nature's punishment.
With all the thermal performance of a pre-insulated phenolic duct packaged with an outdoor durability like no other, Thermaduct provides a long-lasting, energy saving solution for your customers.