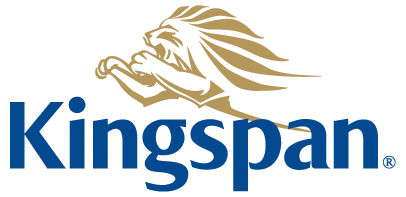 Kingspan Insulation is a Division of Kingspan Group PLC, one of Europe's fastest growing building materials manufacturers. Kingspan Group was formed in the late 1960's with its HQ in Kingscourt, County Cavan, Ireland. Kingspan Insulation is consequently able to draw on the many resources and support of a focused, innovative group. Kingspan Group has manufacturing, distribution and commercial operations throughout Europe, North America and other locations across the globe.
Kingspan Insulation has a vast product range including rigid Kooltherm insulation; Therma insulation; and The Kingspan KoolDuct System of premium performance pre-insulated HVAC ductwork. The extensive range of products is suitable for a variety of applications. Manufacturing excellence, first class customer service and unrivalled expertise in meeting the needs of the market are just some of the many strengths that Kingspan Insulation offers to designers, engineers and contractors.
With a heavy focus on energy efficient building products and materials, Kingspan Group has positioned itself at the front of the building industry. Kingspan Insulated Panels, another Division of Kingspan Group launched its Path to Net Zero initiative in 2011. In addition, they assessed the entire product lifecycle in a first of its kind, ISO compliant, Environmental Product Declaration by UL Environment. Kingspan Insulated Panels' long-term mission will see that all facilities achieve Net Zero energy consumption (meaning they produce as much energy as they consume) by 2020. Learn more at Pathtonetzero.com.